My blog includes news and reviews of books and events.
Escape rooms
10 Oct 2021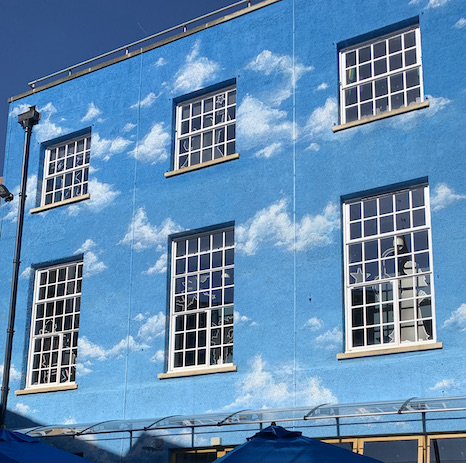 I found myself in Oxford this week on an October day when the real sky was as blue as the one painted on a courtyard wall in the Story Museum. I have not visited the museum for at least a couple of years (when work was still in progress) and so it was wonderful to see it now fully restored and reopened. Upon entry, visitors are invited to select a magic wand (a measure that's as practical as it is imaginative to make the whole experience touch free). A tour of the galleries starts with a guided audio walk through the Whispering Wood. Here trees fashioned from coils of rope support a leafy canopy that allows the lights in the ceiling above to throw ever changing dappled patterns on the forest floor.
Each tree can be brought to life – a glazed hollow in the trunk is illuminated to reveal a precious story artefact and a lively telling from fable, fairy tale or legend speaks to those who have stopped. As you leave the gallery you can tie a ribbon to the wishing tree as a way of adding your own dream to its branches.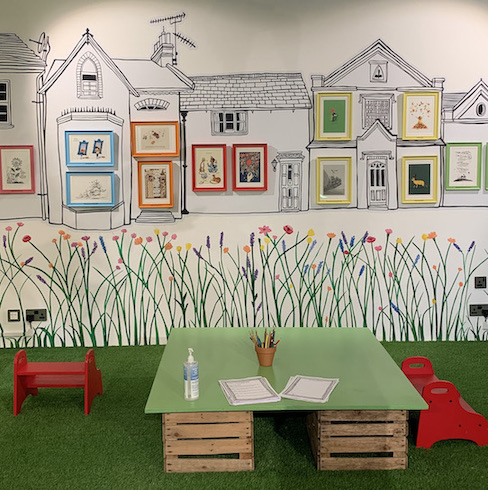 From the wood, you enter a lawned space bordered by wildflowers and a mural of houses whose windows are replaced by a display of framed original illustrations. These come from The Book of Hopes, the anthology curated by Katherine Rundell with a percentage of the proceeds going to NHS charities. In the centre of the lawn is a 3D reimagining of Axel Scheffler's Hope Tree from the cover of the book. There are benches and deckchairs for lingering and sheds where you can create your own doodles, stories or performances. I particularly liked the Shed of Make Believe – an actor's dressing room complete with lightbulb mirror, props and costumes, and 'chopping board' scripts for some two-handers.
After the hopeful garden you move on to the Enchanted Library. Here the shelves are arranged in antique cabinets, each one focussing on a different era of children's literature and crammed with books and curios. The chronological organisation means that at some point you will find your own childhood behind glass! But it's what is between the library stacks that is the most captivating. Here you can enter moments from treasured stories.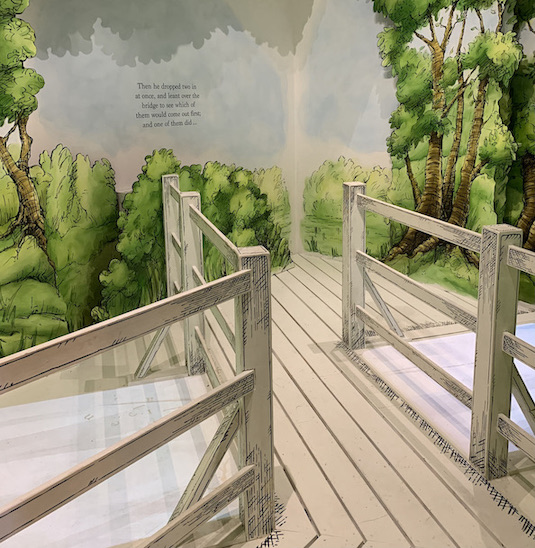 Step onto Poohsticks Bridge where a light projection on the floor beneath creates the sticks carried along by the current. Crunch through the snow with Lucy to meet Mr Tumnus. Sit on the sofa in Raymond Briggs' book-lined front room and wait to see if the Snowman might appear. Disobey Horrid Henry's threat to keep out of his bedroom. All in all the Story Museum takes you from a narrow Oxford street to a celebration of the never ending horizons that reading provides.