My blog includes news and reviews of books and events.
Pottering with Peter at the palace
18 Jul 2022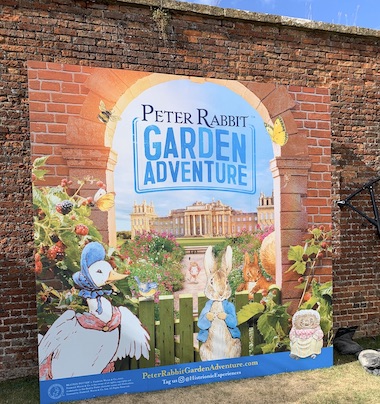 It's been nine months since I wrote my last blog piece. But it's 120 years since the focus of this entry – a small rabbit in a 'blue jacket with brass buttons, quite new' – found himself in a story written by Beatrix Potter.
To celebrate this anniversary of a much-loved children's classic, I decided to join the clue-based theatrical tour that is the 'Peter Rabbit Garden Adventure' at Blenheim Palace. Photography of the sets, puppets or actors was not permitted for copyright reasons, so reversing the adage that a picture paints a thousand words . . .
We assemble at the edge of the walled garden and our guide is Beatrix Potter herself, dressed in a wide-brimmed straw hat, vintage blouse, long olive skirt and brown boots. She explains with some urgency that we must find Peter by tempting him out from his hiding place with a purple carrot and save him from the clutches of the vengeful Mr McGregor.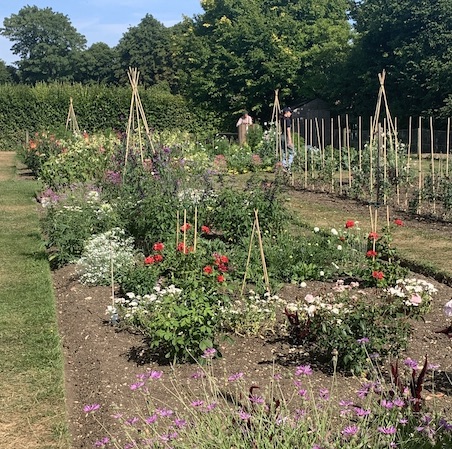 We follow Miss Potter to a corner of the garden where we meet Benjamin Bunny. A puppet (expertly animated by an actor dressed as an Edwardian gardener) elaborates on the somewhat grisly fate that befell Peter's father at the hands of Mr McGregor. It's not for the faint hearted.
Our next stop is in a small yard among low-slung rows of washing hanging to dry. Here we're invited to use flowerpot-and-string telephone receivers to hear the voice of Mrs Tiggy-Winkle transmitted from her hideaway (she is evidently too shy to step into the limelight). She says if we can find a key then perhaps it will unlock the gate to Mr McGregor's garden. Beatrix encourages smaller audience members to search the pockets on the clothesline . . .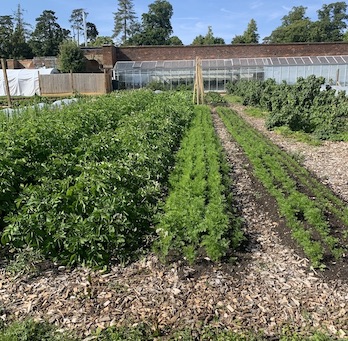 The discovered key brings us hope that we're getting closer to finding Peter, only for those hopes to be dashed when the key does not fit the lock. A resourceful Beatrix uses a hairpin instead and we rush to a raised bed of carrots. After an encounter with a wooden Jeremy Fisher (handled like a ventriloquist's dummy by Miss Potter) and the discovery of the purple carrot, there's an exchange with the 'excessively impertinent' Squirrel Nutkin. He dances skittishly thanks to some dextrous puppetry and babbles a riddle-clue which leads Beatrix to find Peter, hiding in a watering can.
Beatrix assures Peter that she will take him to safety and pops him in her wicker bag. We must then pass through a dark, dank secret rabbit tunnel to Mr McGregor's potting shed where Beatrix sets a booby trap for the contemptible bunny-hater. We are told to hide ourselves under the shelves before a shabbily dressed McGregor stumbles in, looking for his victim. But just as he's brandishing suitable implements to put an end to Peter, Miss Potter's trap binds him up with garden rope and we make our escape to the last setting of the tour.
It's Miss Potter's cosy writing burrow, where a very sleepy Peter is brought out from the bag and we are treated to a magical display of the author's original watercolours, projected onto white 'pages' lining the burrow.
All through the tour Miss Potter alludes to the difficulties she had in persuading publishers to print her stories and she finishes with a message that we should not listen to people who say we can't do things but instead believe in ourselves.
Imaginative and immersive, the theatrical experience captures the virtues and follies, the struggles and triumphs of Beatrix Potter's most beloved characters who are as fallible as they are furry.