My blog includes news and reviews of books and events.
Wildlife caught on paper
23 Oct 2019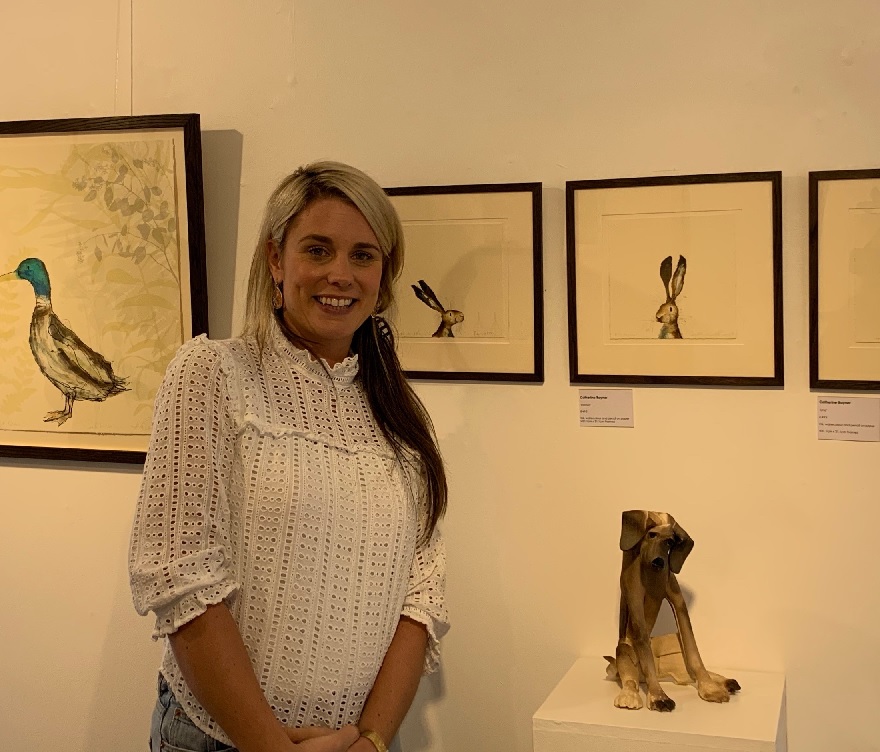 Catherine Rayner's third solo exhibition at the Sarah Wiseman Gallery in Oxford has just opened and runs until 2nd November. Named 'Rustlings' it collects together an ensemble of wild creatures quietly yet busily preparing for winter. They remain focussed on harvesting berries, nuts and leaves for their hibernation while gallery-goers observe them, not wishing to disturb their autumnal activities.
And yet, as is often the case with Catherine's work (which you can find here), we are invited to know these animals intimately. They are not afraid of meeting our gaze, and we are given a uniquely personal connection with them by being allowed to discover their names. Within one frame thirteen tiny field mice perch on translucent silkscreen leaf shapes. Catherine's delicately dizzy line makes the mice almost tremble with life. And we discover that they are, collectively, 'The Petersons': a true family.
Elsewhere in the gallery some animals are already sleeping. Six small creatures are each curled inside their own frame. They are Opal, a fox, Casper, a hare, Crispin, a mouse, Sasha, a badger, Amarinta, a hedgehog and Figgy, a red squirrel.
Perhaps it is not surprising that Catherine gives the animals in her exhibition their own distinctive personality with such expressive faces and wonderful names. And that is because when she is not working on her paintings and prints, Catherine is an award-winning children's author and illustrator.
I was lucky enough to commission Catherine to illustrate Michael Bond's classic story: Olga da Polga. We worked on the book together twice, in fact! Initially I commissioned Catherine to provide black and white illustrations for a b-format edition. It was so well-received that we then decided to bring Olga and her garden friends to life a second time in a sumptuous colour gift edition for which Catherine created eighty new glorious colour pieces. In one of the illustrations, I love the purposeful way that Fangio, the hedgehog who visits Olga's garden, marches across the page, his snout already sniffing something beyond the margin.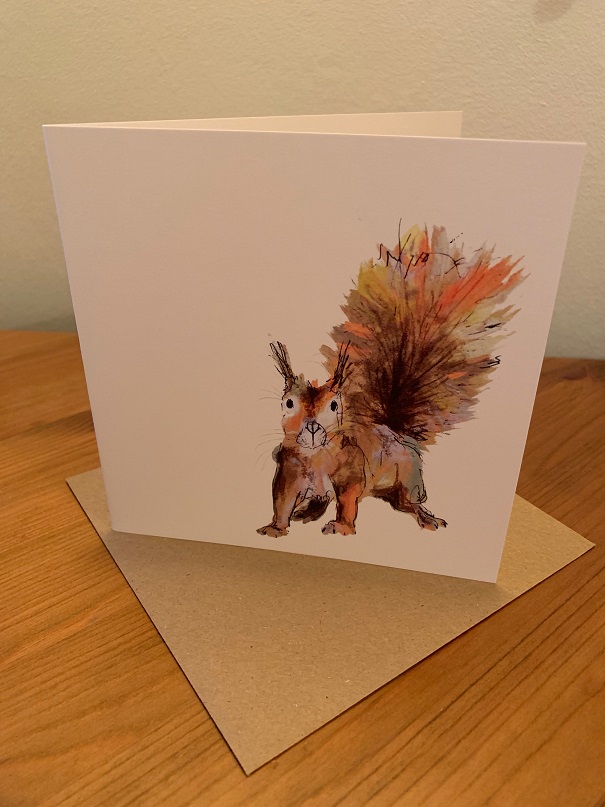 Catherine knows just where to place her animals on a page or within a frame – it means her subjects are always animated, never still. Moses, caught on this handmade card, in beautiful copper verdigris shades, demonstrates this perfectly with his 'blink and I'll be gone' ownership of the space.
Before visiting the exhibition today, I listened to the inaugural podcast on Sarah Wiseman's website, recorded at the Edinburgh Printmakers studios, which gives a real insight into how Catherine creates her work and how her different roles as artist, illustrator and author are interwoven.
It was lovely to see both Catherine and Sarah at the launch of the show and I would certainly recommend a visit if you are in the Oxford area.