My blog includes news and reviews of books and events.
Unruly in the library
14 Nov 2019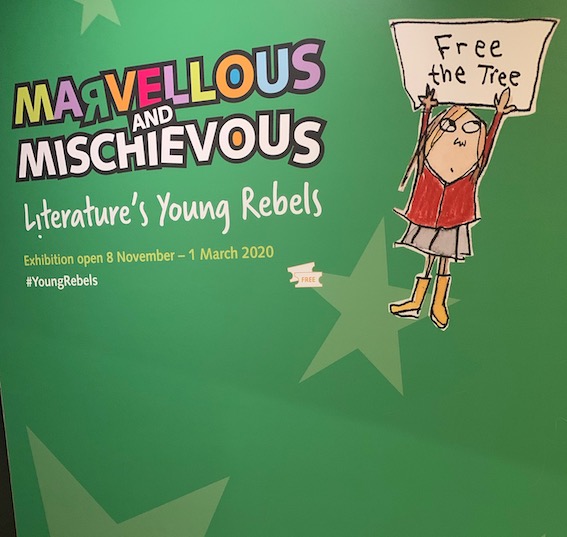 If you're brave enough, descend a few stairs in a corner of the British Library to meet some of the most rebellious characters in children's books. The exhibition – running until March next year and called 'Marvellous and Mischievous' – salutes those children who cannot be contained by convention, who dare to be different and whose acts of rebellion are an inspiration to anyone who discovers their stories.
Open books are displayed invitingly in glass cabinets, along with manuscripts and authors' notebooks, while pieces of original artwork are framed on the walls. The space is subdivided to give a thematic context to each group of literary rebels and mischief-makers.
To start, you find yourself in a cosy and conventional parlour with wallpaper, an armchair, and flying ducks over the fireplace. The first cabinet contains archive copies of Child's First Tales by William Carus Wilson and The English Struwwelpeter – two nineteenth-century books that sought to control children through moral instruction and cautionary warnings.
But the ordered scene and the Victorian attempts at rule making are soon brushed aside when you come face to face with the first rebel in the exhibition – Pippi Longstocking . Here, she's 'Pippi Langstrump', smiling defiantly from the cover of the original 1945 Swedish edition. She shares her wall with more recent books that have explored constraints and freedoms, including Wild by Emily Hughes and Dare by Lorna Gutierrez and Polly Noakes.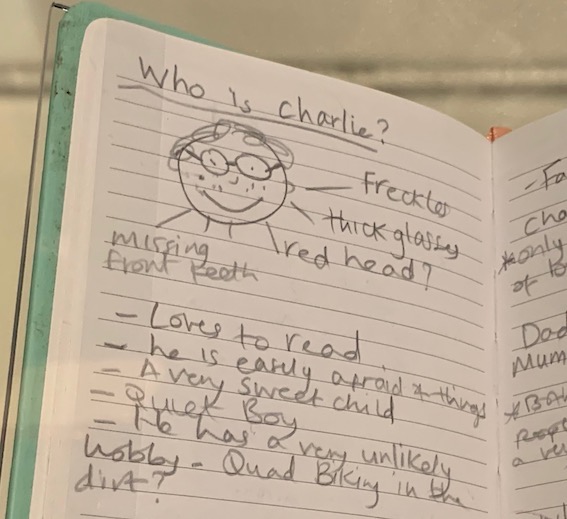 Next the exhibition moves to classroom rebellion and audience participation is encouraged with a place to sit and write your own responses to what you've seen. A copy of Zanib Mian's Planet Omar, illustrated by Nasaya Mafaridi, is displayed next to the author's handwritten character profile for Omar's friend Charlie. Omar shares the schoolroom with others who've had to face institutional injustice including Jane Eyre, Matilda and Anne of Green Gables.
From domestic and scholastic, the exhibition finishes with a more fantastic flourish. There's a Chinese picture book where a little girl living in Shanghai is inspired by the legend of Mulan, there's a Japanese edition of Alice's Adventures in Wonderland, and a cabinet where Maurice Sendak's 'wild rumpus' is in full swing next door next door to some 'rough, tough little girl pirates' imagined by Peter Harris and Deborah Allwright.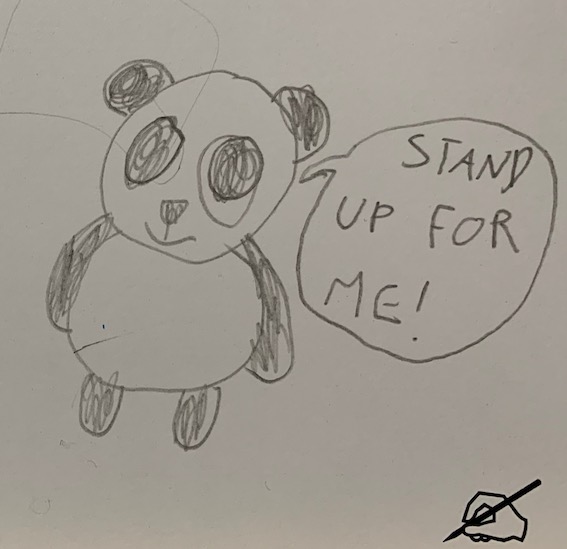 Before you leave the exhibition, you're invited to write and draw about 'What would you stand up for?' and place your contribution on a wall of rebellion. There's a reading corner where you can pick up the books you've seen on display and be inspired by all kinds of characters who break the rules, from Princess Pearl to Dirty Bertie.
One thing's for sure, you're bound to leave the exhibition feeling a little more empowered than when you arrived.