My blog includes news and reviews of books and events.
A tree is not just for Christmas
21 Dec 2019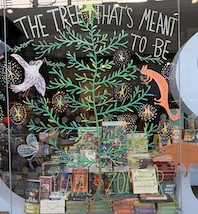 While trees are being felled for the festive season and organisations such as Network Rail are pledging to plant them, Yuval Zommer has produced a wonderful book that's perfect for Christmas but also shares a timely message about the importance of nurturing our forests for the future.
The Tree That's Meant to Be focuses on a little fir tree that's too small and wonky to be chosen for Christmas. It's left feeling vulnerable and alone until woodland creatures come together to help the tree to celebrate Christmas and its place within the forest where it can continue to grow.
If you're planning some Christmas shopping in Oxford this year, you'll find the window of Blackwells in the Westgate Centre transformed by Yuval with birds, butterflies and foxes framing the tree that's at the heart of his book.
Yuval is passionate about protecting and respecting the environment and his book communicates his zeal to the youngest readers through a story that's told with charm and beauty. Yuval is among many picture book creators who sense a responsibility to make us all, and the generations that follow, aware of our role as guardians of nature.
With Tree Patricia Hegarty and Britta Teckentrup have given us a season-by-season exploration of a tree and the changes that happen among its branches. The peep-hole paper engineering allows readers to feel that they have been given special access to the information they discover.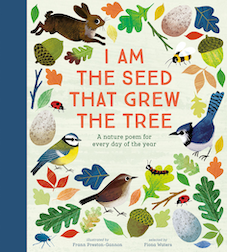 Published for the National Trust is Fiona Water's collection of poems in I Am the Seed that Grew the Tree, beautifully illustrated by Frann Preston-Gannon. The poems encourage readers to reflect on every aspect of the natural world and our relationship with it.
The Royal Horticultural Society's The Magic and Mystery of Trees, written by Jen Green and illustrated by Claire McElfatrick, is a gorgeous gazetteer of trees and forest habitats all over the world, taking readers on a global journey to appreciate the critical importance of trees to our planet.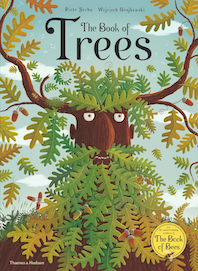 And finally there is The Book of Trees by Piotr Socha and Wojciech Grajkowski. This large format homage to trees is full of fascinating facts and meticulously detailed illustrations.
Publishers understand their duty to source paper responsibly and sustainably in the production of their books. But they also need to think carefully about the content that's printed on the pages. And so it's great to see such beautiful and engaging picture books celebrating the glory of trees with the aim of inspiring young children and their families to respect nature in a world where so many habitats and species are threatened by human activity.