My blog includes news and reviews of books and events.
A website for Wildsmith
22 Jan 2020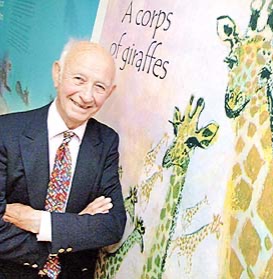 Today would have been Brian Wildsmith's 90th birthday. As a lasting birthday tribute, his children have launched a website that celebrates his life and work.
Engaging in tone and encyclopaedic in scope, www.brianwildsmith.com is a veritable treasure trove of information and images that chart Brian's background, creative life, professional collaborations, awards and, of course, his books. It is meticulously researched and includes many fascinating artefacts from his studio together with excerpts from Brian's autobiographical writings.
It has been carefully curated and beautifully designed by Clare, Rebecca and Simon Wildsmith. I particularly like the touches of colour that have been added to the black and white photographs – marking Brian out with an eau de nil tie or a lilac-tipped paintbrush in his hand.
I would very much recommend it.
A decade ago, Brian came to the UK to mark his 80th birthday with exhibitions staged at the Illustration Cupboard in London and Seven Stories in Newcastle.
I was lucky enough to attend the private view of the London exhibition and remember with fondness how the bijou space was packed with authors and illustrators who wanted to meet Brian. He was an inspiration to everyone there and it was particularly lovely to see him share conversations with Shirley Hughes and Judith Kerr.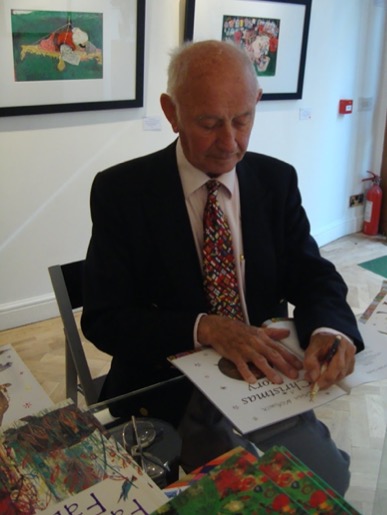 He then headed north to Newcastle with Anna from OUP's PR department to open the Seven Stories show and was due to return directly to France from there. But something happened to delay his return. In a (rather long) word: Eyjafjallajökull. The Icelandic volcanic eruption that kept planes grounded for days on end meant that Brian instead had to take the train. For me, this meant an unexpected chance to see him once more as he broke his journey in London and I hopped up from Oxford in order to help him navigate his way across town. (He had, by that stage in his life, been living in France for forty years and was not familiar with the Oyster card or the bewildering number of exits at Kings Cross.)
Like me, so many people will have their own personal memories of Brian Wildsmith. Whether we met him as editors or readers, adults or children, colourful moments and snatches of conversation will remain stitched into our lives. But countless more people have been touched by his prodigious and stunning creative output. For me, the book that stands out from my childhood is The North Wind and the Sun. Brian Wildsmith's publishing legacy has allowed generations of families to share the vibrancy, wisdom, humanity and love that is expressed in his paintings and stories. For all those families the website unveiled today will be a wonderful place to spend time.